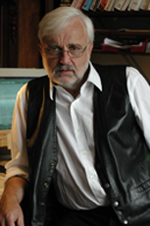 University of Hamburg
Hans J. Kleinsteuber was professor of Political Science and Journalism at the University of Hamburg, Germany since 1976 and head of the Research Center for Media and Politics. Before that he studied in Berlin and the USA. His research work included media politics, economics and technology in Germany, in a comparative perspective and in a global scope. He has been member of the EMRG since 1980. He was member of the Broadcasting Council of Deutsche Welle, the international broadcaster of Germany. Hans died in February 2012.
Publications on Euromedia Topics
Media policy and regulation
On Regulation and Governance, published in: Klumpp. Et.al.: Medien, Ordnung und Innovation, Berlin 2006, 185-200.
Public Broadcasting, published in Wernecke: Die bedrohte Instanz, Berlin 2005, 31-44.
European public sphere
On European Public Sphere, published in: Langenbucher / Latzer: Europäische Öffentlichkeit und europäischer Wandel, Wiesbaden 2006, 305-317.